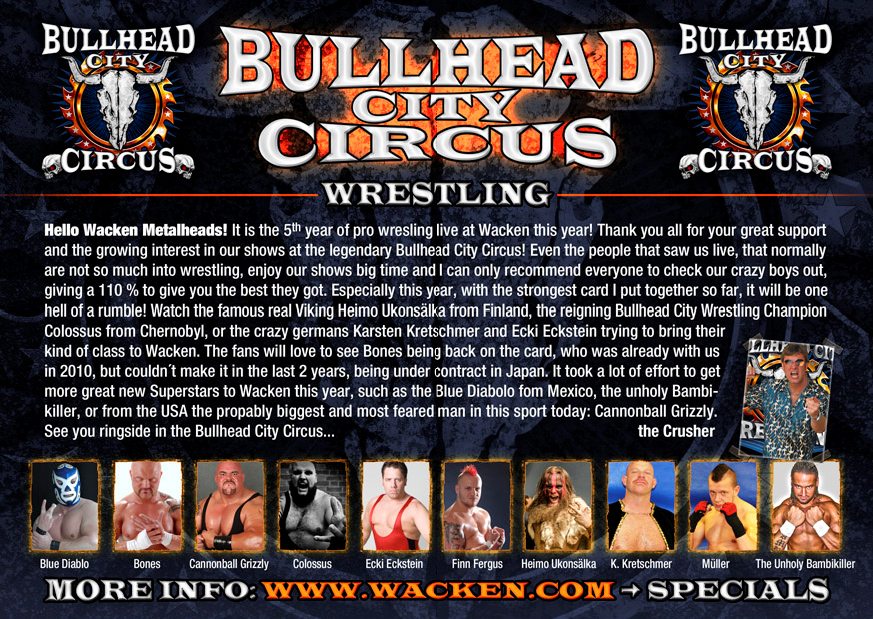 Also this year a illustrous range of wrestlers will visit Wacken to demonstrate their warrior skills in the ring.
Once a day there will be clashes at the Bullhead City Circus. The exact times can be found in the Running Order
This year the following wrestlers will participate:
Blue Diablo, Bones, Cannonball Grizzly, Colossus, Ecki Eckstein, Finn Fergus, Heimo Ukonselkä, Karsten Kretschmar, Müller, The Unholy Bambikiller.
Also show master Martin "the Crusher" Ruder has a few words to say about the upcoming event:
"Hello Wacken Metalheads !
it ist the 5th year of pro wresling live at Wacken this year ! Thank you all for your great support and the growing interest in our shows at the legendary Bullhead City Circus !
Even the people that saw us live, that normally are not so much into wrestling, enjoy our shows big time and I can only recommend everyone to check our crazy boys out, giving a 110 % to give you the best they got.
Especially this year, with the strongest card I put together so far, it will be one hell of a rumble !
Watch the famous real Viking Heimo Ukonsälka from Finland, the reigning Bullhead City Wrestling Champion Colossus from Chernobyl, or the crazy germans Karsten Kretschmar and Ecki Eckstein trying to bring their kind of class to Wacken.
The fans will love to see Bones being back on the card, who was already with us in 2010, but couldn´t make it in the last 2 years, being under contract in Japan.
It took a lot of effort to get more great new Superstars to Wacken this year, such as the Blue Diabolo fom Mexico, the unholy Bambikiller, or from the USA the propably biggest and most feared man in this sport today : Cannonball Grizzly.
See you ringside in the Bullhead City Circus,
the Crusher"
Here is the current trailer:
<script type="text/javascript" src="http://www.wackentube.com/js/embed.js.php?id=3574"></script><noscript><object type="application/x-shockwave-flash" data="http://www.wackentube.com/vimp.swf?playlistmode=media&amp;mediaid=3574&amp;webtv=false&amp;hosturl=http%3A%2F%2Fwww.wackentube.com%2Fflashcomm.php" id="flashcontent_51dab5639cb20" classid="clsid:d27cdb6e-ae6d-11cf-96b8-444553540000" name="c6a80378-3eb2-47e7-8415-ba1f7cff037e" codebase="http://fpdownload.macromedia.com/pub/shockwave/cabs/flash/swflash.cab#version=9,0,0,0" width="480" height="360" align="middle"><param name="movie" value="http://www.wackentube.com/vimp.swf?playlistmode=media&amp;mediaid=3574&amp;webtv=false&amp;hosturl=http%3A%2F%2Fwww.wackentube.com%2Fflashcomm.php" /><param name="width" value="480" /><param name="height" value="360" /><param name="align" value="middle" /><param name="quality" value="high" /><param name="allowscriptaccess" value="always" /></object></noscript>