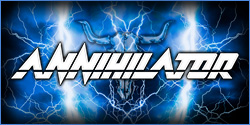 Christmas Eve 2014 – our grand finale
Dear Metalheads,
the last door of the big Metaltix Advent calendar can be opened. Have you solved all the daily questions? In this case, you should be able to build the big solution word (or the solution sentence) to win one of our star prizes. If you got the solution then enter the calendar click on "prizes" tab and enter the solution as well as your complete adresse into the field below the prizes.
And of course there is also a last big band wave – here we go!
Annihilator
The Annihilator returns! After the celebrated show at W:O:A 2013, we wanted the band to stay on stage for forever. And now it is time for the second serving! The Canadian thrash metal band will smash Wacken once again – and you can be part of it!
Dark Tranquillity
We are happy to announce another representative of the Gothenburg metal scene, Dark Tranqullity, for the lineup of the W:O:A 2015. This also means, that together with At The Gates and In Flames, three of the most important Melodic Death Metal bands will be on stage at Wacken 2015!
Queensrÿche
One thing that is for certain whilst discussing the upcoming W:O:A lineup: someone always requests Queensrÿche! For these people we have exciting news: We are very happy to confirm the legendary progressive metal band for their first visit at the W:O:A. Queensrÿche is in the business for more than 30 years and they produced 14 studio albums in this time. So we are looking forward to a bunch of unforgettable songs at the W:O:A 2015!
Rock Meets Classic
We like to present you a very special and unique rock project at W:O:A 2015. Legendary heavy metal singers are singing their biggest hits – supported by the Mat Sinner Band and the Bohemian Symphony Orchestra Prague. One of the singers is none other than Dee Snider – the legendary Twisted Sister singer finally returns to Wacken! The other singer we can present right now is the peerless Michael Kiske – singer of Helloween, Plance Vendome and Unisonic and guest musician at projects like Avantasia, Gamma Ray, Masterplan or Edguy!
Together with some special guests, the two singers and the other musicians will present a full load of heavy metal hits!
And here are the x-mas winners from the 23rd of december 2014:
Sara B - Ralingen
Ralf K - Meppen
Christian L - Köln
Galina Y - Shumen (Bulgaria)
Niels K - Hardinxveld-Giessendam (The netherlands)
All winners will be informed by mail!
Tomorrow we will announce the last daily xmas winners!