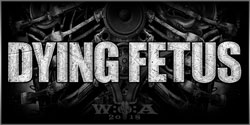 Door 17 - Brutal Death Metal, Rapmetal and the ultimate Motörhead tribute!
For the 17th door of our X-Mas Calendar we present you an package with three very different bands!
When Dying Fetus returns to Wacken, 16 years have passed since their first and so far only W:O:A show! In the meantime, the band wasn't idly: The American Death Metal heroes have released several albums. The last one is called "Wrong One To Fuck With" and it shows one important thing: They still kick asses!
Since their very acclaimed show at W:O:A 2017, Clawfinger have been licking blood again. The crossover / rap metallers released a new single a few months ago and 2018 is the 25th anniversary of their legendary debut album Deaf Dumb Blind. The band is celebrating this with us with a special anniversary show and this will be also the only German festival show in 2018.
In the summer of 1996, the men Abbath, Pez and Tore decided together to found a tribute band in honor of their favorite act Motörhead. The three musicians, whom we also know from acts like Immortal and Dark Funeral, are friends since their childhood days and were welded together by Bömbers once more. Anyone who has ever seen the band live will surely confirm: Bömbers from Bergen are the ultimate Motörhead tribute band!
And here are the x-mas winners from the 16th of December 2017:
Heidrun K - Schafstedt
Nick I - Meuro
Andreas B - Hamminkeln
Anton G - Einhausen
Frank S - Wuppertal
All winners will be informed by email!
Tomorrow we will announce the next bands and xmas winners!