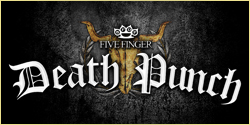 Door No. 19: Another Wacken debutant for the Anniversary!
Behind door no. 19 we can present you another Wacken debutatn - Five Finger Death Punch!
The US American groove metal export Five Finger Death Punch was founded in 2005 and they sureley reached the top since then. Already the second album became a golden record in the USA and this year they have released their fourth Album, called The Wrong Side of Heaven and the Righteous Side of Hell.
By the way, it can be dangerous to take the band as a support act. They use to smash the tour headliner with their performances!
More about the band at Billing/Bands
And here are the x-mas winners from the 18th of december 2013:
Karsten S - Duisburg
Detlev P - Altrip
Rabea S - Altenberge
Patrick S - Comines (Belgium)
Ine K - Sint - Limburg (Belgium)
All winners will be informed by mail!
Tomorrow we will announce the next band and xmas winners!