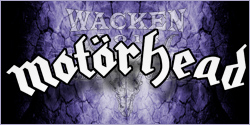 Door No. 24 - Christmas Eve brings you Motörhead & Alice Cooper!!!
Today is Christmas Eve and according to it the W:O:A X-Mas calendar opens its last door. Behind this door we have arranged a very legendary band package for your Christmas tree: Be prepared for Motörhead & Alice Cooper!
Motörhead is one of those bands there is nothing much more to say about that isn´t already known. Since decades they are one of those often copied but never reached hard rock legends
and pioneers of the whole heavy metal scene in general. Since a lot of years they are brave companions of the Wacken Open Air and meanwhile Lemmy Kilmister, Philip Campbell and Mikkey Dee can be counted as regular visitors of the festival. Next year they will show the audience once again the true meaning of Rock ´n Roll when it´s time again to say: WE ARE MOTÖRHEAD!
Coincidentally today the indestructible Mr. Kilmister is celebrating his birthday so we wish him a big HAPPY BIRTHDAY LEMMY!!!
More about Motörhead at Billing/Bands
Alice Cooper - The groundbreaking veteran of all things Shock Rock, the grand master of Horror Show extravaganzas, Cooper has been an influence to legions of headbangers for several decades. In 2013 "The Coop" will visit the Holy Wacken Land for the second time. Whether you like his wild Seventies stuff, his highly successful Eighties albums or the rockin' and rollin' newer stuff - Alice Cooper has it all. Everyone who had the honor of experiencing the master of shock rock live knows that wicked stage acting and bloody horror elements are obligatory part of his shows. Be prepared!
More about Alice Cooper at Billing/Bands
With these two top-acts we release you for now and wish you a merry Christmas and a happy new year 2013.
And here are the x-mas winners from the 23rd of december 2012:
Sebastian K - Lörrach
Juha H - Nurmo
Frank K - Dorsten
Kasper O - Børkop (Denmark)
Marko L - Tampere (Finland)
All winners were already informed by mail!
Tomorrow we will announce the next band and xmas winners!