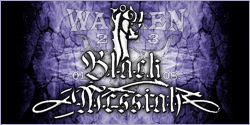 Door number five brings Benighted and Black Messiah!
Today we have another metallic double pack for you! Door number 5 hides Benighted and Black Messiah – both bands will celebrate their Wacken premiere in 2013.
Black Messiah started as an old school black metal band, but then the band changed its style more and more to pagan metal. The band was established in 1992 and for about 10 years, there was no single live show, it was just a studio project. In February 2012 they released their latest album The Final Journey and in 2013 they will start their journey to the Wacken Open Air!
More information at Billing/Bands
Benighted from France will bring along their death grind to the holy land to shake the ground. Already 7 albums were released by the band which was found in 1998. Since this time, several band members were raddled and new were recruited. But this didn't restrain the quality of the releases or the amount of fans!
More information at Billing/Bands
And here are the x-mas winners from the 4th of december 2012:
Carolin R - Herzberg
Monika B - Vaale
Gerrit G - Lübeck
Daniel B - Debrecen (Hungary)
Pamela B - New Brunswick (Canada)
All winners were already informed by mail!
Tomorrow we will announce the next band and xmas winners!