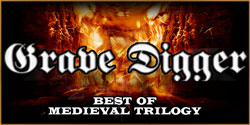 Four bands on the fourth Sunday of Advent!
Today we present you a package of four great bands - and one of them is going to play a very special show! And also today's prizes at xmas.wacken.com are very special ones, you can win one of five flightcases filled with surprise merchandise.
The clans are marching again! The German heavy metal pioneers Grave Digger will play a very special show at upcoming W:O:A! They will perform a best of show with material from their three concept albums Tunes of War, Knights of the Cross and Excalibur - the so called Medieval trilogy. Get ready for some stunning stage décors and many well-known special guests.
Another band that was founded in the 80s! Prong always have been an important influence for the whole scene, even bands like Korn, Nine Inch Nails or Metallica are quoting and honoring their work. This year they released their new studio alxum X - No Absolutes and we're looking forward to welcome them and the new material!
Steve Harris returns to Wacken once again! After the celebrated Iron Maiden show at W:O:A 2016, he will now rock Wacken with his relatively young side project British Lion. British Lion is celebrating the 70s, the time of the big melodies and epic tunes – but at the same time they manage to avoid appearing antiquated. One reason for this will be the great choice of musicians, Steve assembled a great team to make his visions come true.
The Australian band The Amity Affliction is dedicated to the Post-Hardcore scene and they are worshipping it since 2002. Since a few years, the band also gains success outside of Australia and made the jump into Europe - which leads them to Wacken eventually. They have already released five studio albums and we're curious which songs they will serve at W:O:A.
And here are the x-mas winners from the 17th of December 2016:
Thorsten L - Duisburg (GER)
Alana V - Lippstadt (GER)
Christian K - Löhnberg (GER)
Kerstin T - Rieden (GER)
Claus T - Odense (DNK)
All winners will be informed by mail!
Tomorrow we will announce the next bands and xmas winners!