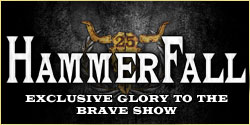 Hammerfall behind door No. 5
Today is the 5th of december and now we can confirm the following special show:
Hammerfall – exclusive Glory to the Brave Show
HAMMERFALL are proud to announce their performance at the 25th anniversary of the 2014 Wacken Open Air. And the show won't be a standard one! Oscar Dronjak explains: "It's very fitting that, when Wacken celebrates its 25th anniversary, they will get a proper "Glory To The Brave" anniversary show. This will be a throwback show to the European gig that launched it all for us: Wacken Open Air 1997. The set list will consist of all the songs from the first album and we'll of course add some newer songs at the end. We will do this very unique show at Wacken and nowhere else, so if you miss it, you missed it."
More info about the band at Billing/Bands
And here are the x-mas winners from the 4th of december 2013:
Carola J - Kiel
Kathrin T - Büchen
Daniel K - Itzehoe
Mike K - Neumünster
Richard G - S.yorks (Uk)
All winners were already informed by mail!
Tomorrow we will announce the next band and xmas winners!