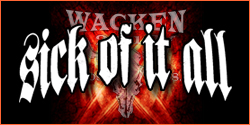 Hardcore Legends in Wacken – Sick Of It All confirmed!
Since 20 years they belong to the spearhead of the international hardcore movement und countless metal and hardcore bands name them as main influence of their music.
Yes! It´s the New York Hardcore institution SICK OF IT ALL! That this band hasn´t shot all its powder after more than a dozen outputs becomes clear to everyone after hearing the newest output "Based On A true Story" which became the most successful album in the history of the band from Queens. Next year in Wacken SICK OF IT ALL will unleash a true storm of moshpits! Be prepared!
More at Billing/Bands