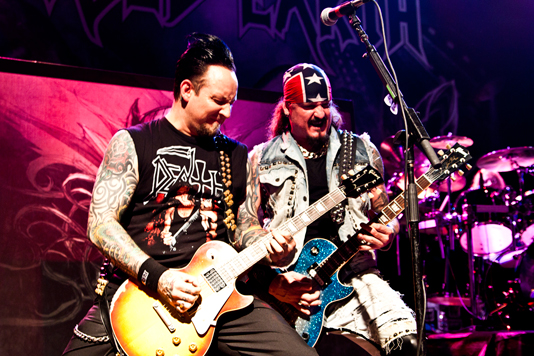 Iced Earth – Dates for the Europe tour are announced
The American power metal band Iced Earth plans some gigs in Europe in winter 2012. While they play together with VolBeat and Hellyeah at their current summer tour, the support bands for the winter tour will be Evergrey, Steel Engraved and Deadshape Figure.
There is also a video interview with Iced Earths mastermind Jon Schaffer about the unusual combination of Iced Earth and VolBeat:
<iframe width="640" height="360" src="http://www.youtube.com/embed/P4R_cJD608E?feature=player_detailpage" frameborder="0" allowfullscreen></iframe>
The following dates are confirmed for the winter tour:
12.12.2012 CZ Meat Factory, Praha
13.12.2012 A Szene Wien, Wien
14.12.2012 CH Z7, Pratteln
15.12.2012 Backstage, München
16.12.2012 Rockfabrik, Ludwigsburg
18.12.2012 B Trix, Antwerpen
19.12.2012 Matrix, Bochum
20.12.2012 UK Electric Ballroom, London
21.12.2012 NL Maassilo, Rotterdam
The pre-sale will start soon!