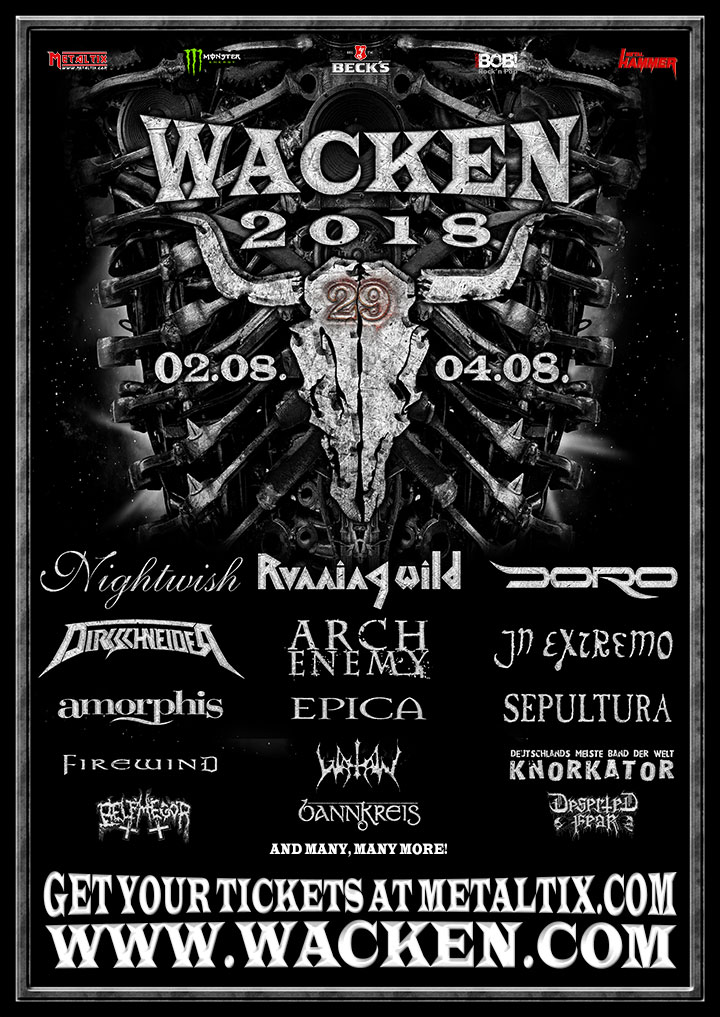 Information on Wacken Open Air 2018 presales
Our beloved Holy Land is still vibrant from days we will never forget - we hope you're feeling the same. Once again, we thank you for your support! You are the reason why W:O:A is a spectacular highlight year after year!
The story continues in 2018 with bands like Nightwish, Running Wild (only festival show in 2018), Arch Enemy, Dirkschneider, Sepultura, Epica, Doro (Special Anniversary Show) and many more already confirmed. There will be over 150 acts from all over the world, all of them looking forward to celebrate metal in all it's glory with you.
What do we need now? The information on the presales for W:O:A 2018, of course!
The price will be the same, for € 210 (X-Mas Tickets, more on that below) respectively € 220 (regular tickets) you will get:
access to the campgrounds from Monday, July 30st 2018 (no fee)
live music from Wednesday, August 1st 2018, to Saturday, August 4th 2018 - over 100 acts spread across eight stages
use of all showers and toilets free of charge
There is one important change: Attached to the back of the hardticket you wil find our new W:OA Card. This is the actual ticket for W:O:A 2018!. The cardboard ticket is just a a souvenir for your collection. This new format is convenient, fits into every pocket and is resistant to damages.
The pre-sale for 2018 starts at midnight from Sunday, August 6th to Monday, August 7th, (GMT+2) exclusively on www.metaltix.com.
Wacken Open Air 2018 - Official Trailer (Early Version) - Wacken Worldwide!
<iframe width="600" height="315" src="https://www.youtube.com/embed/4ghrYhRdaGs" frameborder="0" allowfullscreen></iframe>
First tickets on sale are, as always, the X-Mas Tickets which are limited to 10.000. The cost of an X-Mas Ticket is 210€ incl. fees (plus shipping and system fee). It does contain a free W:O:A X-Mas T-Shirt. Per sale only two X-Mas Tickets will be available.
The regular 3-day-all-in tickets cost 220€ incl. fees (plus shipping and system fee) Per sale, a maximum of five regular tickets will be available.
With your ticket you can also purchase the W:O:A 2018 Special Shirt for 16,99€ as part of a bundle with your 3-Day-All-In Ticket.
By the way: Hanse Merkur offers a ticket insurance for € 9,50 which you can add to your order during the process. For more information click here.
Please note: The shipment of tickets and shirts will not start before the end of August! Please contact Metaltix only if absolutely necessary, because otherwise all processes will be slowed down!
W:O:A 2018 – 02.08. - 04.08.
Already confirmed: Nightwish, Running Wild (exclusive), Arch Enemy, Dirkschneider, Doro (Special Anniversary Show), In Extremo, Sepultura, Amorphis, Watain, Epica, Knorkator, Belphegor, Firewind, Deserted Fear, Bannkreis - many more to follow!
Tickets available exclusively at www.metaltix.com – starting August 7th 2017!
Our whole team stands at the ready and the equipment is all fired up:
<iframe width="600" height="315" src="https://www.youtube.com/embed/gA8MyhVb8Tk" frameborder="0" allowfullscreen></iframe>