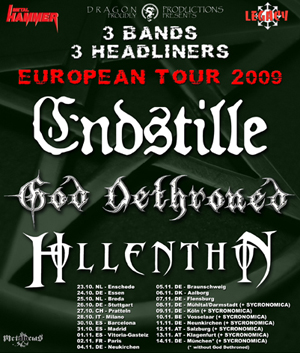 Kiel Black Metal institution ENDSTILLE on tour
Dear Metalheads,
from October 23rd to November 14th Kiel Black Metal battleship ENDSTILLE will join forces with Dutch GOD DETHRONED and Austrian HOLLENTHON for a triple-headliner-tour. Headliner slot will be forwarded every evening.
Since Iblis (former frontman) left ENDSTILLE, KOLDBRANN's Mannevond is going to grab the mic for this tour and fire the audience up not only with old songs but also with fresh ones from the new album "Verführer".
Be prepared for pure destruction when this tour-package will draw near you too.
ENDSTILLE + GOD DETHRONED + HOLLENTHON
23.10.09 Fri NL Enschede @ Atak
24.10.09 Sat DE Essen @ Turock
25.10.09 Sun NL Breda @ Mezz
26.10.09 Mon DE Stuttgart @ Landespavillon
27.10.09 Tue CH Pratteln @ Z7
28.10.09 Wed IT Milano @ Club 71 Special Guest: KULT
30.10.09 Fri ES Barcelona @ Sala Mephisto
31.10.09 Sat ES Madrid @ Sala Ritmo y Compas
01.11.09 Sun ES Vitoria-Gasteiz @ Jimmy Jazz club
02.11.09 Mon FR Paris @ Glaz'Art
04.11.09 Wed DE Neukirchen @ Sägewerk
05.11.09 Thu DE Braunschweig @ JUZ B58
06.11.09 Fri DK Aalborg @ Aalborg Metal Fest
07.11.09 Sat DE Flensburg @ Roxys
08.11.09 Sun DE Mühltal bei Darmstadt @ Steinbruch Theater
09.11.09 Mon DE Köln @ Werkstatt
10.11.09 Tue BE Vosselaar @ Biebob
11.11.09 Wed DE Neunkirchen @ Club Cäsar
12.11.09 Thu AT Salzburg @ Rockhouse
13.11.09 Fri AT Klagenfurt @ Kwadrat
14.11.09 Sat DE München @ Backstage*
[*without GOD DETHRONED]