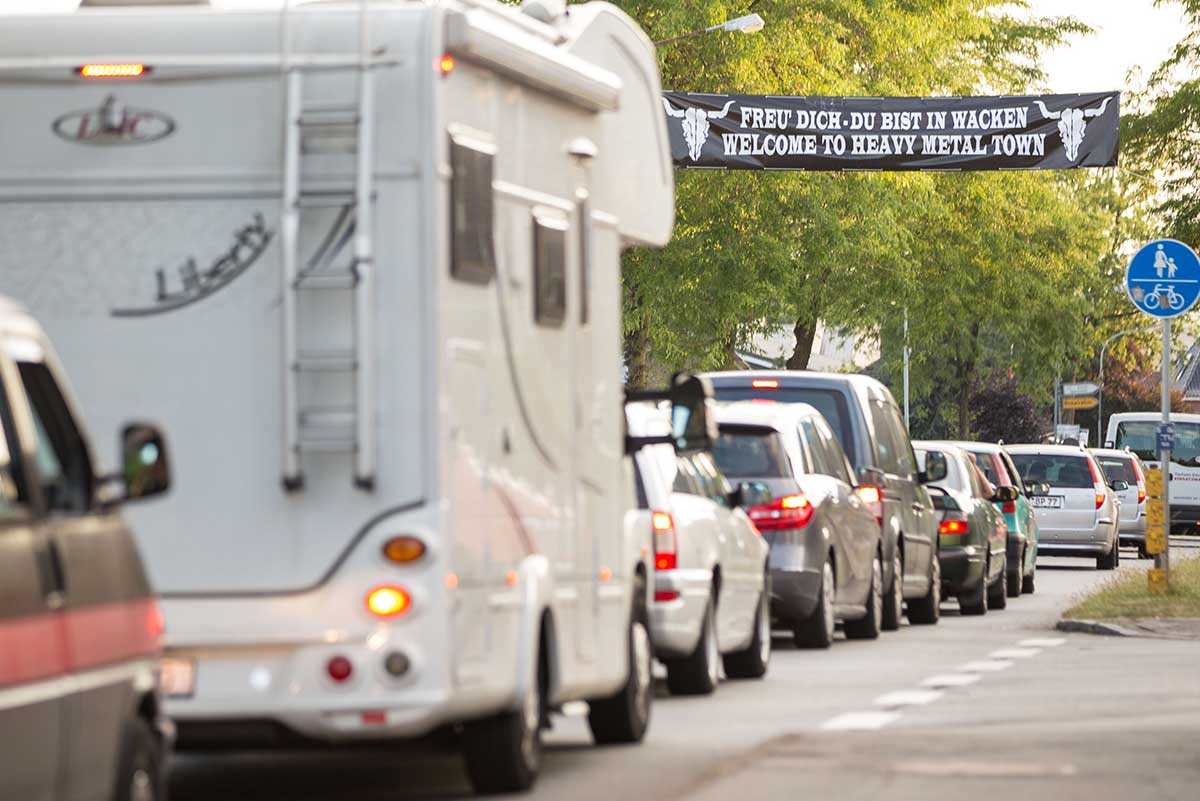 Latest travel information for W:O:A 2019
Finally the 30th Wacken Open Air begins and probably many of you are already good to go. On this occasion we would like to summarize once again all important hints, which you should consider during the journey.
Please note the following:
The camping areas will open as previously communicated on Monday, 29. July at 3 pm. An earlier arrival or access to the camping areas is not possible!
Take advantage of the attractive bus & train offers whenever possible!
Here you will find our traffic forecast, which shows you the estimaned rush hours collected through your feedback, which you should avoid if possible. Make your journey stress-free with as little waiting time as possible.
Schedule sufficient time for your journey - there are many construction sites on Germany's motorways.
Pay attention to the signposts, the traffic information on the radio and on our W:O:A App, which is well known from the last years.
Think about the formation of rescue lanes on the whole trip to the W:O:A and form them early. Once the traffic has stopped, this is often no longer possible!
Note for all users of navigation systems:
Please use them only until you reach our signposted arrival routes. Then you can confidently trust our guidance system. This point is even more important for your departure, because we need to distribute you to both local motorways. So follow the departure instructions, even if they initially appear as a detour, and do not operate your navigation until you are on the motorway. This helps to avoid Sunday traffic jams in the north at least.
ATTENTION: We use both the A 23 and the A 7 as routes to the south!!
Radio - Traffic radio to the festival:
The local radio stations will report a special W:O:A traffic radio in time for your arrival. Here you will receive regular updates on traffic jams, detours and everything else concerning your arrival.
On site:
Keep your tickets ready - searching for tickets means hecticness for you and unnecessary waiting times for all others.
Please follow the stewards' instructions and use the allocated pitches and areas. Questions about the festival will be answered after you have parked your car.
Keep the traffic and rescue routes clear - otherwise you will be towed away - the traffic and rescue routes are regularly marked with a line and are really important for the access of rescue vehicles and for the fire brigade.
Please note that the visitor, park and camping regulations must be observed on all areas.
Please also observe our parking regulations: Two rows of vehicles will be formed and between these vehicles there will be free space for your tents and living utensils - the lane that will then be created on the other side of your vehicle will serve as a traffic and rescue route for you and the rescue services!
Weather:
We're probably in for a warm W:O:A 2019! Salways pay attention to our current information on the weather situation and think of the increased fire risk. All visitors who don't have a fire extinguisher can use the sand piles at the sanitary camps - so take buckets with you for the transport. More information on fire hazards and prevention can be found here.
Camper Park / Moshtel:
Camper Park Wacken - Areas Y and Moshtel: Travellers who have reserved a space on Area Y and guests who have booked services such as rental campers, rental tents etc. in the Camper Park Wacken or in the Moshtel have to drive to the two check-ins at Hopstieker Weg and at Hohenhörner Str. one after the other through the assigned gateway (Gates 1 - 5). Please follow the instructions of the stewards!
Moshtel customers must arrive by Wednesday until 2 PM, otherwise they must park at the daily parking lot in Gribbohm and walk from there.
Motorhomes and caravans:
If the grounds are to wet, we are not permitted to let vehicles over 3.5 t weight onto the surfaces. Vehicles over 7.5 t must be registered with us in advance using this form.
Cabs:
Taxis can be found at the W:O:As bus station and in the Schulstraße in Holstenniendorf. Unfortunately there are some black sheeps among the taxis every year - so look out for our stickers on the accredited taxis and compare the prices with the price list you can find here. Don't worry about fixed prices and contact the crew at the bus station if you have any problems.
Security feature of the W:O:A-App:
Help us to get you to the meadows as quickly and safely as possible by activating the "location Reporting" function in our app. Then we can plan for you before you leave the highway. You can find all information here.
Tractors:
Tractors must have arrived by Monday 12:00 noon and may exceptionally drive on the terrain to park their trailers. They are not allowed to stay on the premises after hanging up and are not allowed to drive up again to pick up trailers until 12:00 noon on the following Sunday. Tractors that want to stay nearby can be parked in the Gribbohm day car park.
We thank you for your support and wish you a safe, relaxed and trouble-free journey.
See you in Wacken - rain - or shine!
Your
W:O:A Team