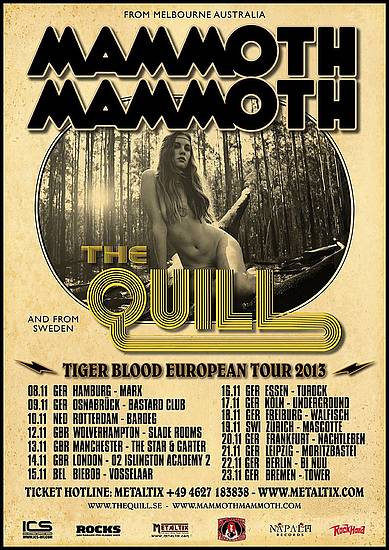 Mammoth Mammoth & The Quill - Double-Headline tour starts in November
The Australian hard / stoner rock band Mammoth Mammoth comes to Germany with their famous and intensive shows. At last the band released it's second album in 2013 which generated a lot of new fans all around the globe.
Furthermore the band will get reinforced by the Swedish band The Quill
Or how they call it:
More than 200 years ago, four men were transported from Europe and sentenced to life imprisonment on the harsh penal colony of Australia - their only crime, killing unicorns to feed their families. On that day, each swore an oath of revenge upon the continent that had forsaken them and the creatures that had condemned them.
Now, the seed of this foul prophecy has finally born its bloody fruit. The four sole descendants of these men - Mammoth Mammoth, have finally escaped Australia and will be joining forces with Swedish metal barbarians, The Quill, to rain down thunderous riffs across Europe and unleash a crushing wave of brutal murder-fuzz aimed at decimating every last living unicorn.
<iframe width="640" height="360" src="//www.youtube.com/embed/u-MDHfecPGM?feature=player_detailpage" frameborder="0" allowfullscreen></iframe>
Tour dates:
08.11.2013 GER Hamburg Marx
09.11.2013 GER Osnabrück Bastard Club
10.11.2013 NED Rotterdam Baroeg
12.11.2013 GBR Wolverhampton Slade Rooms
13.11.2013 GBR Manchester The Star & Garter
14.11.2013 GBR London 02 Islington Academy 2
15.11.2013 BEL Biebob Vosselaar
16.11.2013 GER Essen Turock
17.11.2013 GER Köln Underground
18.11.2013 GER Freiburg Walfisch
19.11.2013 SWI Zürich Mascotte
20.11.2013 GER Frankfurt Nachtleben
21.11.2013 GER Leipzig Moritzbastei
22.11.2013 GER Berlin Bi Nuu
23.11.2013 GER Bremen Tower
Tickets for all german shows are available at www.metaltix.com
Ticket-Hotline: +49 (0) 4627 - 18 38 38