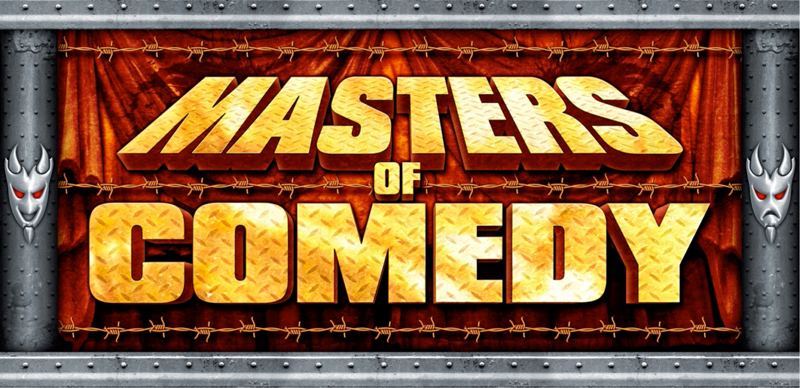 FAT KING KONRAD (FKK) & HEAVY MENTAL ENTERTAINMENT
PROUDLY PRESENTS
World premiere
Masters of Comedy at the Wacken Open Air 2011
MASTERS
OF COMEDY
FAT KING KONRAD
MAMBO KURT
KAY RAY
KILLING IRA
NICO THE FIST
KNICKI KNACKI
HOLY LARS HOLE
JEFF HESS
PAULO PUSSY
& LAST BUT NOT LEAST
THE COMEDIAN TERRORISTS
MASTERS : OF : COMEDY – The toughest comedy show of the world mustn't be missing at the toughest festival of the world!
And now it's ultimately official - Masters of Comedy will infest the 22. W:O:A festival.
According to the sensational success of the tryout there is nothing more getting in the way of the step on the toughest stages of the world.
The starting signal will be given at the biggest festival of hard and heavy music worldwide, the W:O:A.
Fat King Konrad, Kay Ray and a lot of other prizewinning trash titans form up to entertain you in some harder way because MASTERS OF COMEDY are going there where it hurts and gladly a punch further.
Impresario Fat King Konrad hits the nail on the head: "What should one say when he meets a fairy? Bend down, wish is wish! "
And such though comedy has to be in the toughest place of the world – in WACKEN!
Therefore there will be a real blast in Bullhead City several times daily! Unique shows with changing casts and surprise guests will be put on especially for W:O:A. So every evening it says again in the toughest way: "Welcome to the Masters of Comedy"!
First information and the trailer on the internet: www.wacken.com - www.masters-of-comedy.com - www.facebook.com/mastersofcomedy
<script type="text/javascript" src="http://wackentube.com/js/embed.js.php?id=2825"></script> <noscript> <object type="application/x-shockwave-flash" data="http://wackentube.com/vimp.swf?playlistmode=media&amp;mediaid=2825&amp;webtv=false&amp;hosturl=http%3A%2F%2Fwackentube.com%2Fflashcomm.php" id="flashcontent_4e1c53b1363c1" classid="clsid:d27cdb6e-ae6d-11cf-96b8-444553540000" name="c6a80378-3eb2-47e7-8415-ba1f7cff037e" codebase="http://fpdownload.macromedia.com/pub/shockwave/cabs/flash/swflash.cab#version=9,0,0,0" width="480" height="360" align="middle"> <param name="movie" value="http://wackentube.com/vimp.swf?playlistmode=media&amp;mediaid=2825&amp;webtv=false&amp;hosturl=http%3A%2F%2Fwackentube.com%2Fflashcomm.php" /> <param name="width" value="480" /> <param name="height" value="360" /> <param name="align" value="middle" /> <param name="quality" value="high" /> <param name="allowscriptaccess" value="always" /> </object> </noscript>
Are we too hard, you are too weak!
So remember: This show is nothing for all the pussies!
Terror, bombs – terrific atmosphere!