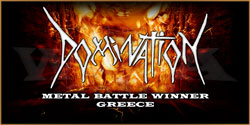 Metal Battle 2017 - The first four finalists have been chosen!
The first Metal Battle finalists for 2017 have been fixed!
The Metal Battle is on its way and the preliminaries and finals take place in many participating countries. In four countries, however, the finalists have already been found.
Greece, Poland, Central America and the Faroe Islands have already found their participants for the grand finale on the Wacken Open Air.
Domination is a young Thrash Metal band from Athens, founded in 2011. In 2013, they recorded their first mini-album. In 2015, they released their first album. Now they have recorded their second album and they are already on their way to Wacken.
The Kroach are from Warsaw and were founded in 2015. Their music can be called a mixture of classic heavy metal and metalcore. With their wild mixture they want to convince the audience and the jury at the Wacken Open Air.
Central America - Verge of Umbra:
Verge of Umbra have dedicated themselves to Nu Metal and come from Belize. Their heavy metal is mixed with elements of hip hop and reggae. If you like bands like Skindred then this is a must see!
Asyllex is a metal band from Suðuroy on the Faroe Islands. Their first gig together as a band was at the W:O:A Metal Battle Faroe Islands in 2013. This year they took the pole position and will now present the Faroe Islands at Wacken!
Congratulations to all the finalists and we will see you in Wacken!
All further information about the Metal Battle can be found at: www.metal-battle.com