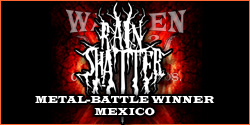 Metal-Battle Winners Mexico, Latvia & France
Today we have 3 new band announcements from the Metal-Battle finalists.
Rain Shatter from Mexico, Opifex from Latvia and Lord Shades from France each won the national finals in their home countries.
Rain Shatter - The band comes from Guadalajara in the west of Mexico and was founded in 2009.
The band already played with famous bands like Megadeth, All Shall Parish or Vital Remains and are currently recording their next album.
Opifex - This dark Avantgard/Progressive Metal band comes from Latvia. They are optically and musically influenced by the steam punk scene.
This multi talented band is currently recording their first album and they do all whats nessecary for it by theirselves - be it recording, mixing, mastering and the graphics design of the album artworks.
Lord Shades -The winners of the french Metal-Battle edition combines several styles in their sound. A self created fantasy world serves as background for the story behind their lyrics and is been advanced from album to album.
Congratulations to the bands – we are looking forward to see you at the Metal-Battle finals!
See you at Wacken, rain or shine !!!
Further Metal-Battle bands will follow!
All further details about Metal-Battle Mexico, Latvia and France under the following links: