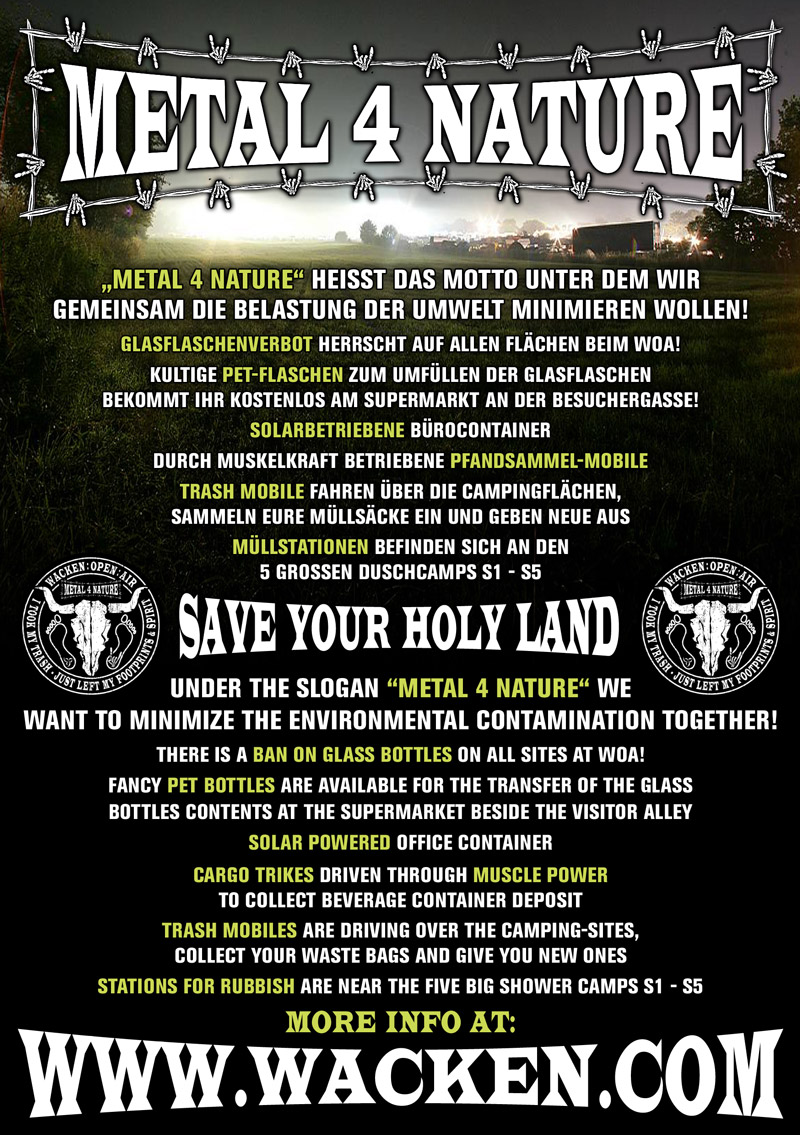 Metal4Nature - Save Your Holy Land
This year we want to minimise the pollution of the environment at the Wacken Open Air together with you. Out of respect for the nature different measures are being implemented under the slogan "Metal4Nature – Save Your Holy Land".
As in the past years our Trash-Mobiles are driving around on the campsites to collect your waste bags and to hand out new bags. In case that you do not see a Trash-Mobile and want to get rid your waste bag, you can dispose it at the shower camps S1 – S5.
Volunteers of the Wacken Foundation are driving around the campsites with cargo-trikes driven through muscle power and collect cans and PET bottles. The beverage container deposit will benefit the Wacken Foundation, who supports metal bands and artists with the proceeds. Therefore we would be very pleased about you donating your beverage containers!!!
There is a ban on glass bottles on all sites at the Wacken Open Air. You can fill your drinks from a glass bottle to a fancy PET-Bottle at the supermarkets on the visitor's alley.
Due to a successful implementation in 2012 the office container of the Wacken Foundation will again work as an energy-self-sufficient island provided with energy from solar panels. In the same way the so called Sleeping Can is being operated, which could be used as accommodation on festivals in the future. It looks like an oversized beer can and consist of a bedroom and a common room. In the Wacken Foundation Camp you can visit a prototype of the Sleeping Can.
Viva con Agua de St. Pauli, who is committed in drinking water supply in developing countries will collect reusable beakers in the infield and in the areas of Wacken Plaza and Wacken Centre. With the income Viva con Agua ensures clean drinking water in developing countries. Additionally the Wacken Foundation, who supports hard rock and heavy metal bands, is being participated in the income.
At the entrance of the Wackinger Village you can view the NAS Respect sculpture that has been built out of packaging material. It demonstrates that you shall treat the environment with respect and decrease your own waste production as much as possible. So please all join in and make your own contribution to save the environment!!!