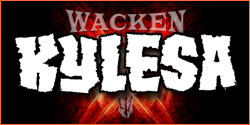 Nasum and Kylesa on St. Nicholas Day!
Today is St. Nicholas day so we got two confirmations for you:
Kylesa - A real "Metal-Exotic" for today's confirmation: Kylsea. Take three comparable singers, two drummer and mix the influences of Doom Metal, Stoner Rock and Punk with classic Heavy Metal and what do you get? Sludge Metal! You´re excited how this will sound?! So are we!
Nasum - After the tragic death of singer Mieszko Talarczyk during the tsunami in Asia, Dezember 2004, Nasum announced their annulment. And there will be no reunion. But in 2012 Nasum would have celebrated its 20th anniversary. Therefore, and after long deliberation and scrutiny, Nasum have decided to do a handful of shows and festival gigs around the world – to celebrate their anniversary, say a final goodbye to fans and Mieszko. One of this few shows will be at the Wacken Open Air. This will be one of the last chances ever to see this gods of grind live - so take it!
More band info about both bands under the following links:
And here are the x-mas winners from the 5th of december 2011:
Anna G - Willingen-Usseln
Björn F - Drentwede
Oliver W - Rimpar
Hendrik M - Wittingen
Krzysztof S - - warszawa (Poland)
All winners were already informed by mail!
Tomorrow we will announce the next band and xmas winners!