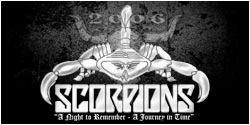 NIGHT TO REMEMBER ! THE SCORPIONS
Dear Metalheads,
FINALLY...... ! THE SCORPIONS - FASTER HARDER LOUDER - AT W:O:A 2006!
Coast to Coast in the north! Rock you like a Hurrikane .....
... after 40 years of bandhistory a promise, that the Scorpions will deliver at every live-concert!
The biggest and
Die größte und most successful german Heavy Metal Band of all times shows after bringing you some soft music where they're going: from now on the heavily rock!
With their show at the W:O:A 2006 on the 03.08.2006 with the slogan
"A Night to Remember - A Journey in Time"
THE SCORPIONS with special guests
a further milestone in their great career will be set.
This show will be filmed and recorded and the fans can vote for their favorite songs.
The special guests will be published in the next days.
More info's follow...
Your
W:O:A Team