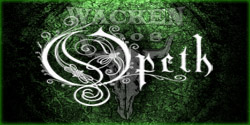 Opeth - Releasedate + Albuminfos
The new album "Watershed" from Opeth will be released at the 3rd of june 2008.
Tracklist:
01. Coil
02. Heir Apparent
03. The Lotus Eater
04. Burden
05. Porcelain Heart
06. Hessian Peel
07. Hex Omega
The new record will be more complex than the last album and will be a mix of modern metal, prog rock, freejaz and parts of european folklore.
Origin: www.metalnews.de