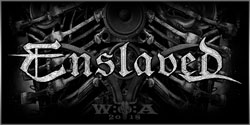 Our X-Mas Calendar 2017 has started – here are the first new bands!
The W:O:A X-Mas Calendar 2017 has started! We bring to you 24 days filled with exciting new bands for the upcoming Wacken Open Air and high-class prizes for all participants of our daily raffles.
All new bands and the raffle are available at xmas.wacken.com – you will be able to open the next door at midnight (German time) already!
For the first door, we have chosen two known bands. Both have already played at Wacken but not within the last few years. Please welcome the return of:
Enslaved have been founded in the early 90s in Norway. The last W:O:A show of the band was back in 2009 and it is about time to get them again! They are co-inventors of the viking metal genre but they developed their sound all the time and are now very progressive. The band released their 14th studio album "E" earlier this year, so they will be able to present four albums we haven't heard at Wacken yet. Let them come!
The name of this German metal band refers to the horseman of the apocalypse and it suits them well! After their 20th Anniversary in 2015, the band went on hiatus to recover. Now it is time to attack again!
Their new album "Der Rote Reiter" easily connects to the great albums from the past and as always there is a colorful genre mix that holds something for almost every Metal fan. In 2013 the band was last seen on stage at Wacken – we can't wait to have them again!