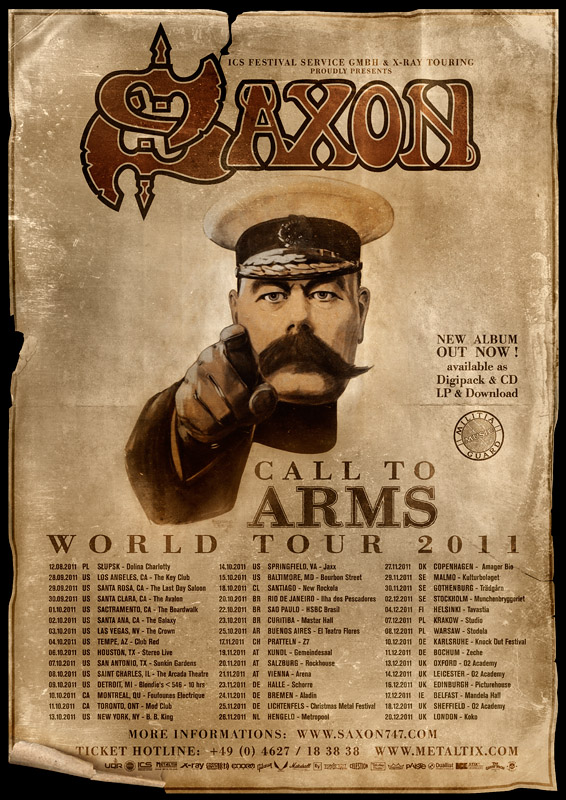 Saxon - Call To Arms World Tour 2011
The New Wave Of British Heavy Metel once again crosses the 7 seas! That means Saxon have started their "CALL TO ARMS WORLD TOUR 2011" around the globe.
Promoting their brand new album "CALL TO ARMS" which they have in tow a lot of new songs can be expected from this tour. The album is available since the 3rd of June 2011. Starting their tour in the USA, Canada and South America they will return to Europe in the end of November to conquer the clubs and concert halls of Germany and the rest of Europe with their timeless hard rock hymns.
This is Saxon – This is a call to Arms!
TOURDATES:
WED 28.09.2011 USA Los Angeles, CA The Key Club
FRI 30.09.2011 USA Santa Clara, CA The Avalon
SAT 01.10.2011 USA Santa Rosa, CA The Last Day Saloon
SUN 02.10.2011 USA Santa Ana, CA The Galaxy
MON 03.10.2011 USA Las Vegas, NV The Crown
TUE 04.10.2011 USA Tempe, AZ Club Red
THU 06.10.2011 USA Houston, TX Stereo Live
FRI 07.10.2011 USA San Antonio, TX Sunkin Gardens
SAT 08.10.2011 USA Saint Charles, IL The Arcada Theatre
SUN 09.10.2011 USA Detroit, MI Blondies
MON 10.10.2011 CAN Montreal, QC Foufounes Electriques
TUE 11.10.2011 CAN Toronto, ONT Mod Club
THU 13.10.2011 USA New York, NY B. B. King's
FRI 14.10.2011 USA Springfield, VA Jaxx
SAT 15.10.2011 USA Baltimore, MD Bourbon Street
TUE 18.10.2011 CHI Santiago New Rockola
THU 20.10.2011 BRA Fortaleza Barraca Biruta
SAT 22.10.2011 BRA Sao Paulo HSBC Brasil
SUN 23.10.2011 BRA Curitiba Masterhall
TUE 25.10.2011 ARG Buenos Aires El Teatro Flores
FRI 11.11.11 ESP Bilbao Rockstar Live
SAT 12.11.11 ESP Madrid Sala Heineken
SUN 13.11.11 ESP Barcelona Bikini
TUE 15.11.11 ITA Romagnano Sesia Rock'n'Roll Arena
THU 17.11.11 SWI Prattein Z7
SAT 19.11.11 AUS Kundl Gemeindesaal
SUN 20.11.11 AUS Salzburg Rockhouse
MON 21.11.11 AUS Vienna Arena
WED 23.11.11 GER Halle Easy Schorre
THU 24.11.11 GER Bremen Aladin
FRI 25.11.11 GER Lichtenfels Christmas Metal Festival
SAT 26.11.11 NED Hengelo Metropool
SUN 27.11.11 DEN Copenhagen Amager Bio
TUE 29.11.11 SWE Malmo Kulturbolaget
WED 30.11.11 SWE Gothenburg Trädgårn
FRI 02.12.11 SWE Stockholm Munchenbryggeriet
SUN 04.12.11 FIN Helsinki Nosturi
WED 07.12.11 POL Krakow Studio
THU 08.12.11 POL Warsaw Stodola
SAT 10.12.11 GER Karlsruhe Knock Out Festival
SUN 11.12.11 Ger Bochum Zeche
TUE 13.12.11 UK Oxford O2 Academy
WED 14.12.11 UK Leicester O2 Academy
FRI 16.12.11 UK Edinburgh Picturehouse
SAT 17.12.11 UK Belfast Mandela Hall
SUN 18.12.11 UK Sheffield O2 Academy
TUE 20.12.11 UK London Koko
Tickets for Germany - metaltix.com