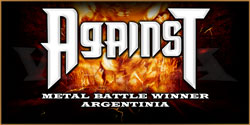 Six more Metal Battle 2017 finalists confirmed!
There was a whole lot going on in the Metal Battle world. Lots of national finales have been fought out and today we want to introduce you to six more finalists! Today, we will introduce you to the country's winners from Argentina, Belgium, Bulgaria, Finland, France and Ireland.
Blood, sweat and tears have been given by the heavy metal combo from Argentina to play this year at the Metal Battle. They have been together since 2009.
Get ready for a metal attack! Because Speed Queen from Belgium rock the stage with their revived 80s Heavy Metal. The leatherjacke and tube jeans can not be missing.
Ophan are an experimental metal band from Sofia who were founded in 2006 and focus on conceptual music.
From the Void are a DarkMetal band from the north of Finland, who bring their gospel from the end of time to the W:O:A.
Stengah have only established themselves in 2013 and play progressive 70s rock.
Animator play explosive thrash metal and have been putting their complete energy into their stage shows for seven years.
We congratulate all winners and are looking forward to see you all live at the Metal Battle finale at Wacken Open Air 2017!
Metal Battle online:
www.facebook.com/woametalbattle/