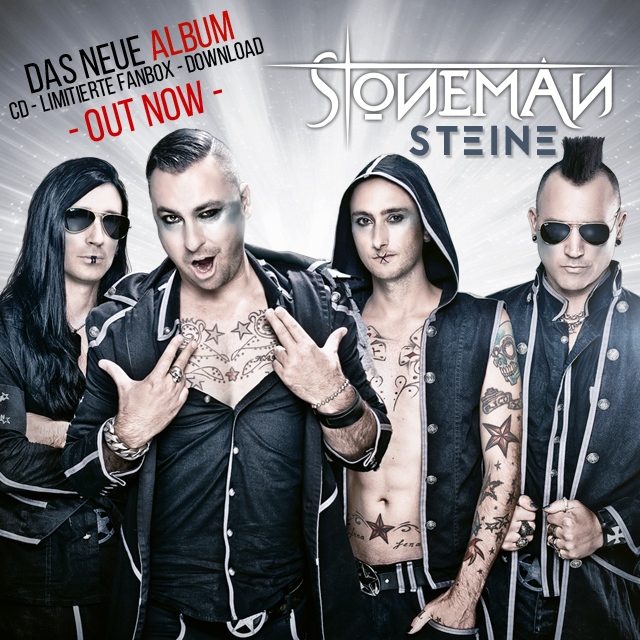 Stoneman - New album & tour dates
Rock stars (mostly) do not fall from the sky. Too often it is a result of hard work, privation, ventures and a pinch of arrogance that persuades a musician to look for a band and to conquer the world.
Fortunately, Mikki Chixx and his fellows have always, against all rules and all mechanisms, been guided by the dream to succeed.
That necessarily this band shall be the next "big thing" on the Goth-NDH-Alternative-Dark-Pop-Rock horizon, we do really like to believe.
The band has done its part in the studio do reach their goal.
Lyrically often on the edge or beyond, musically impetuous and mature at the same time, you can hear, what the guys want - our souls.
And that's where it starts, this special desire for new sounds in the Pabulum of recent years.
Give us something new and yet familiar, give us something rough and not over-produced- give us the new album from Stoneman!
Tracklisting:
1. Wir schreiben Geschichte
2. Kofferlied
3. Eiskalt
4. Steine
5. Wenn der Teufel
6. Ich hass mich nicht genug, um Dich zu lieben
7. Gott weint
8. Spiegelficker
9. An der Leine
10. Kaltes klares Wasser
11. Dein Geheimnis
Tour dates 2016:
09.11.2016 A-Wien - Down Under
10.11.2016 München - Backstage Café
11.11.2016 Dresden - Puschkin Club
12.11.2016 Stuttgart - Club Zentral
13.11.2016 Frankfurt - Nachtleben
15.11.2016 CH-Zürich - Ebrietas
16.11.2016 Hannover - Lux
17.11.2016 Leipzig - Hellraiser
18.11.2016 Hamburg - Logo
19.11.2016 Bochum - Rockpalast
20.11.2016 Berlin - Musik und Frieden
Tickets für die Tour gibt es unter anderem auf www.metaltix.com.
Stoneman web:
https://www.facebook.com/stonemanmusic