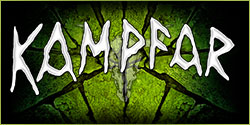 We're close to the 4th Sunday of Advent and the peaceful Christmas season - but today we have one more full throttle day for you. Check out the three new bands!
Kampfar
The Pagan Metal force Kampfar is fighting since more than 20 years and in this time they have burned Wacken down twice. Now it is time for the third raid. Kampfar are playing a combination of Black, Pagan and Folk Metal with Norwegian lyrics.
Insidious Disease
This year we had a Swedish Death Metal supergroup, now it is time for their friends from Norway. The band consists of members from bands like Dimmu Borgir and Nile. Get ready for rough and merciless Death Metal!
Serum 114
Serum 114 are ready to take the throne of the German Punkrock scene! The young band has already established the reputation to be a great live band and has released dozens of great songs.
And here are the x-mas winners from the 18th of december 2015:
Urs U - Flamatt (Switzerland)
Tom H - Leipzig
Robert H - Cottbus
William K - Locmaria Grand Champ (France)
Lee S - Auckland (New Zealand)
All winners will be informed by mail!
Tomorrow we will announce the next bands and xmas winners!