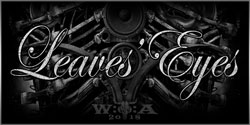 The bands behind the 16th door - experimental Rock & Metal and Symphonic Metal!
In addition to a well-established Symphonic Metal-Act, we have prepared two experimental bands for you, which aren't well known yet. But it's worthwhile listening to it, have fun with them!
With Nightwish and Epica, we have already announced some great Symphonic Metal bands - and today we can add another one! Leaves' Eyes are not only dedicated to the "classic" Symphonic Metal themes such as love, nature a but also to Nordic mythology and the Vikings and their history. Last year the band introduced the new singer Elina Siirala and a new album with her will be released in January 2018.
The project Zeal & Ardor, created by Manuel Gagneux (alias Birdmask) is described as one of the most exciting new developements within the metal genres. The musicians are mixing Gospel and Black Metal sounds in an exciting way. It's hard to describe their very special sound, you need to hear it by yourself. If you are into experimental metal, you should check it out for sure!
Kellermensch are a Danish Experimental Rock phenomenon of the highest quality! The classical rock lineup is joined by a double bass, an organ and a piano to create a very unique sound. Their debut album brought the band almost immediately to all sorts of big stages in 2009, but after the first tours they kind of disappeared again. This year, the band finally released their second album, "Goliath", and once again it gets great critics and contains strong songs.
And here are the x-mas winners from the 15th of December 2017:
Volker F - Schlüchtern
Ayleen S - Kiel
Ralph K - Hamm
Gerlind M - Stolk
Reiner M - Wallerfangen
All winners will be informed by email!
Tomorrow we will announce the next bands and xmas winners!