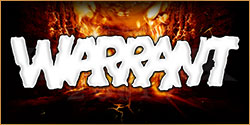 Three lineup additions from Germany!
Today we add three bands from Germany to our lineup. Two of them will make their Wacken debut!
The Speed Metal band Warrant is smashing stages world-wide since 1983 already! Despite their long career, they haven't released much music yet, only three studio albums were made. But the quality of the music is outstanding and we're happy to welcome them back!
The future of German Heavy Metal is ensured! Kissin' Dynmite started back in 2006 and they are playing classic Heavy Metal tunes, mixed with some elements from Glam and Sleaze. The band members aren't 30 years old yet, but they are already rocking the stages like the old veterans. Welcome to Wacken!
Another addition for the Wasteland Stage! Johnny Deathshadow from Hamburg committed themselves to modern Industrial sounds. But they can't deny their past as a horror punk band and both genres are creating a great mixture.
And here are the x-mas winners from the 15th of December 2016:
Andreas B - Kreuzau
Roswitha H - Ehringshausen
Ramona R - Steinfurt
Lars H - Bielefeld
Julia P - Wermelskirchen
All winners will be informed by mail!
Tomorrow we will announce the next bands and xmas winners!