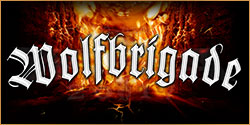 Three more Wacken premieres behind door 19!
We have three more additions to the billing - all of whom will celebrate their W:O:A debut next year!
Who let the wolves out? The Swedish Hardcore Punk/Crustcore veterans from Wolfbrigade will haunt us in 2017. Their sound is heavily influenced by metal and the (comparatively) catchy melodies created a popularity that even includes some known metal musicians.
Crazy, crazier, The Hirsch Effekt. Beautiful noises and great melodies. Filigree finger exercises and guttural chants. The German band The Hirsch Effekt is mixing countless elements and genres and creates remarkable songs with it. The band uses the term Artcore to describe the music - not the worst description!
The ladies from Thundermother are playing high-energy Hard Rock, following in the paths of AC/DC and Motörhead. The band hails from Sweden and already rules Scandinavia, now they are going to conquer the world. And one of the next steps will be the W:O:A 2017!
And here are the x-mas winners from the 18th of december 2016:
Franz B - Ortenburg
Stephan B -
Raphael C -
Lydia maria D - Jaen (Spain)
Marika G - Helsinki (Suomi / finland)
All winners will be informed by mail!
Tomorrow we will announce the next bands and xmas winners!