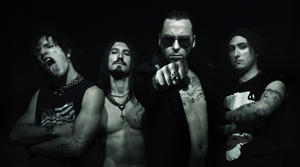 Video World Premiere - Stoneman
On the 25th of November there´ll be a world premiere!!
On www.Wackentube.com you can have a look in the video premiere of the song "Zombie Zoo" which results from a cooperation of Stoneman and Murder Dolls frontman Wednesday13.
"Human Hater" is a variety of unexpected, rough songs and therefore a must-have for every metal-head!
Supporting their new opus Stoneman will be on "Human Hate Tour 2010 / 2011", supporting Tiamat.
Tour dates:
06.11.2010 Schweiz, Zürich – Dynamo
25.11.2010 Niederlande, Haarlem – Partonaat
26.11.2010 Niederlande, Rotterdam – Baroeg
27.11.2010 Deutschland, Frankfurt – Batschkapp
28.11.2010 Niederlande, Eidhoven – Dynamo
29.11.2010 Great Britain, London – Underworld
30.11.2010 Frankreich, Paris – Trabendo
01.12.2010 Frankreich, Nantes – Ferrailleur
02.12.2010 Frankreich, Montpellier – Secret Place
04.12.2010 Deutschland, Karlsruhe – Stadtsmitte
05.12.2010 Österreich, Innsbruck – Bühne
06.12.2010 Schweiz, Pratteln – Z7
07.12.2010 Deutschland, Hamburg – Markthalle
08.12.2010 Belgien, Vosselaar – Biebob
10.12.2010 Polen, Danzig – CSG
11.12.2010 Polen, Warschau – Progresja
12.12.2010 Polen, Kattowitz – Mega Club
13.12.2010 Tschechische Republik, Brünn – Faval Club
14.12.2010 Ungarn, Budapest – Dürer Kert
15.12.2010 Deutschland, Müchen – Backstage
16.12.2010 Deutschland, Essen – Turock
17.12.2010 Deutschland, Glauchau – Alte Spinnerei
18.12.2010 Deutschland, Berlin – Hof 23
19.12.2010 Deutschland, Osnabrück – Rosenhof
19.02.2010 Deutschland, Ottweiler – Club Schulz
24.02.2011 Schweiz, Pfäffikon – Rocktown
25.02.2011 Schweiz, Luzern – Sedel
26.02.2011 Schweiz, Herisau – Metalvetia
27.02.2011 Schweiz, Zürich – Werk21
05.03.2011 Deutschland, Schwäbisch Gmünd – Kneipe
12.03.2011 Deutschland, Hoyersverda – Pitcher´s
01.04.2011 Finnland, Helsinki - Gloria