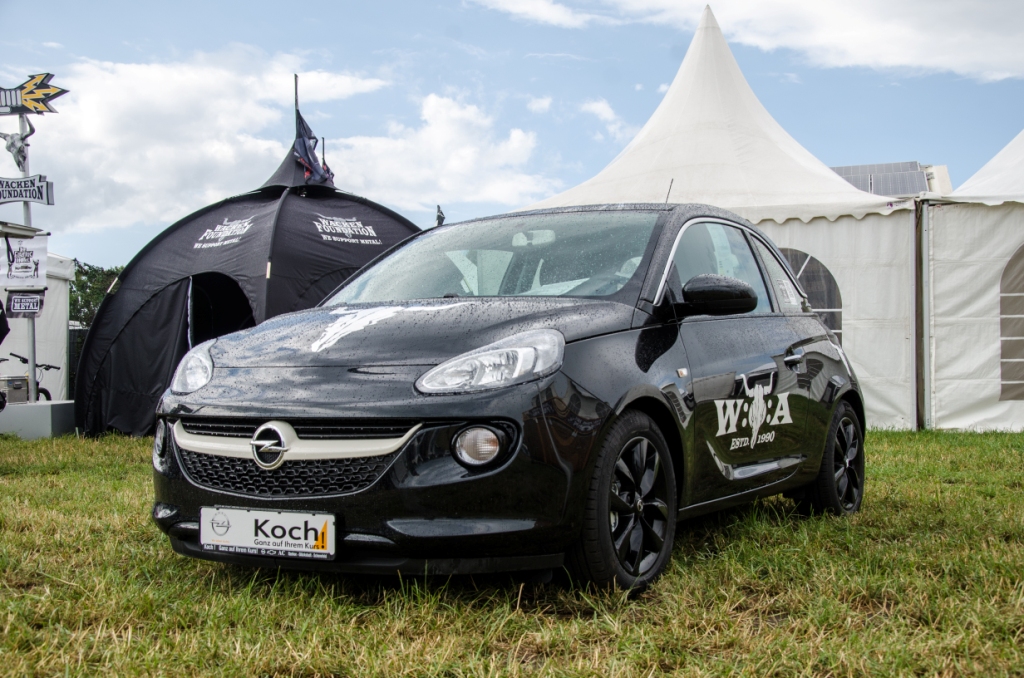 Wacken Foundation - Auction Opel Adam in W:O:A 2013 style
We already announced it at this years' Wacken Open Air and now the time has come: A brand-new Opel Adam in W:O:A outfit will be auctioned on eBay in favour of the Wacken Foundation for the support of young hard rock and metal bands. The auction starts on Sunday, 1st September 2013 at 6 pm and will end one week later on Sunday, 8th September 2013 at 6pm. The link to the auction will be published upcoming Monday at www.wacken.com, www.wacken-foundation.com and at the facebook pages of the W:O:A and the Wacken Foundation.
The W:O:A outfit of the Opel Adam consists of the distinctive letters and the striking Wacken skull. For the branding the certified company "trim line" used the special 3M Scotchcal foil that will last for at least 10 years. As another highlight the dashboard inside the car has been signed by several bands and artists of the W:O:A 2013. Amongst other Biff von Saxon, Lordi and Sonata Arctica pulled out their pens to sign the car.
Special features of the Opel Adam with 87 HP are e.g. a steering wheel heating, a four-part velour carpet set, heated seats, a radio with IntelliLink with seven inch touch screen colour display, an infinity sound system and aluminium sports pedals.
And this is not all. As a bonus the organisers of the Wacken Open Air will put two VIP tickets for the already sold out festival 2014 and a Wacken guitar in the Adam that can be auctioned.
AS YOU SEE; BIDDING IS WORTH IT!!!
Everyone, who misses the chance to purchase this Opel Adam by auction in favour of the Wacken Foundation, still has the possibility to become owner of a vehicle like this. The car dealer Auto-Zentrale Klaus Koch GmbH already sells the W:O:A special edition of the Opel Adam. And two VIP tickets and a Wacken guitar will be placed in each of these cars as well.