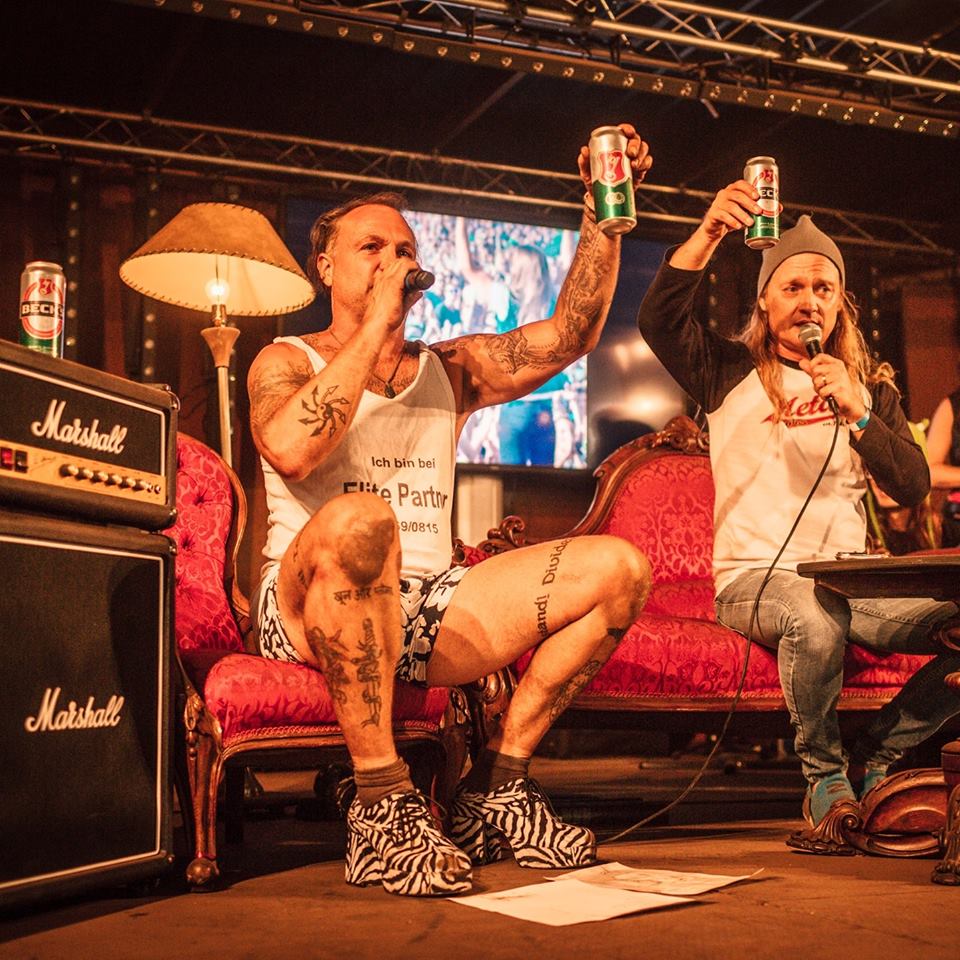 Created by Tom Küppers, Ann G. Jung
Wacken Stories: Andreas "Maschine" Pooch
Almost 30 years of W:O:A lead to many, many great stories – crazy, heart-warming, revealing, or just plain funny. To collect those stories, we have talked to the people that live, work or party around the "Wacken Holy Ground". Their experience illustrate the festival's extraordinary spirit, so have fun with special anecdotes which you won't find everywhere else: Here are the "Wacken Stories"!
---
Andreas "Maschine" Pooch (Host of the Late Night Show, presenter, head nodder)
"At one point we started just nodding at each other. Those four days were fun!"
His first visit to the "Holy Ground" happened as a fan. Later Andreas Pooch worked for Wacken Radio, using his knowledge and voice for years. That work out well, so he was asked if he would like to host the shows at the Bullhead City Circus. One time, this turned out way more complicated than anticipated…
"When I first visited the W:O:A sometime towards the end of the Nineties, I was there as a fan like most people are. Of course, it was an awesome experience. After that, I was lucky enough to work at the festival, like writing reports for papers and magazines or interviewing bands for my own site nitrox.tv. My job as a host started at the Bullhead City Circus, presenting the Metal Battle and the shows on the two stages.
I've been hosting my own Late Night Show for a couple of years now, and this is my favorite story: In 2017 the show was relocated to the Wrestling Tent, an awesome location with top-notch lighting and an amazing stage. Nevertheless it turned out to be a bit of a disaster, because some things you don't really anticipate in advance. Because of the noise from the Bullhead City stages, nobody was able to hear what we did during my show. At some point, my guests and me just started nodding at each other. Nod, nod, nod, nod, nod. Smile, smile, smile. We had no chance to interact with the audience because of the Death and Thrash metal bands rocking next to us. This even became a running gag – and the crowd joined in and laughed. Those four days were fun!
Another cool memory has to do with my Late Night Show as well: I always invite interesting guests, and for one episode Ugly Kid Joe visited us. Da Rocka & Da Waitler were my house band that year, a folkloristic 'Punk Rock' duo with a squeeze box, hailing from Southern Germany. Waitler turned out to be a diehard fan of Ugly Kid Joe, so at one point he started playing 'Everything About You' on his accordion. The band joined in – a great moment!"
Andreas' wish for the 30th W:O:A, if anything was possible:
"That's a hard one! Speaking of dead musicians, I would love to see Michael Jackson. Otherwise, Saga would be pretty awesome."
Text: Tom Küppers, Ann G. Jung
Do you want some more? All already released stories are available here!