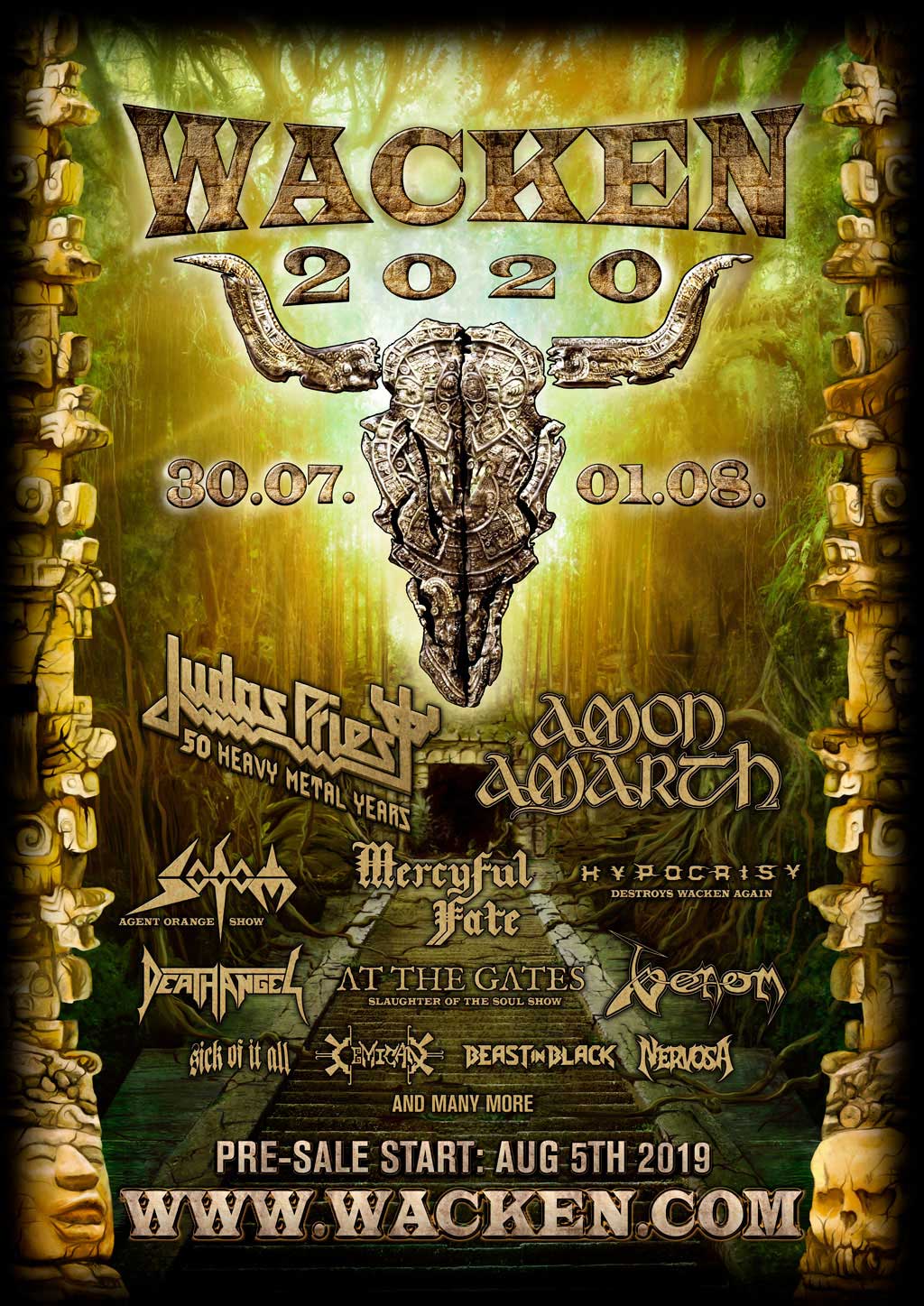 W:O:A 2020 - the first bands are confirmed!
Who is ready for another round? W:O:A 2020 is already shaping up nicely with the first batch of kickass band confirmations - and a new theme for the entire festival that's not limited to the look. Are you ready to dive into the Mayan and Aztec cultures?
As always, music comes first. So we're proud to announce the following bands & artists for 2020:
One of the definite highlights of next year's W:O:A will be none other than... the mighty JUDAS PRIEST! True legends celebrating "50 Heavy Metal Years" at the Wacken Holy Ground - that's a match made in headbanging heaven! Judas Priest have shaped Metal as we know it, so we're beyond honoured to welcome them to the festival for a fourth time.
Vikings and Metal go together quite well, as we all know. And there is no band out there that brings the fire, the screaming and the general kickassness of both worlds together better than AMON AMARTH. These Swedes keep going from strength to strength and have been part of the Wacken journey since 1999! Next year, they will bring out the "Beserker" in all of us for an impressive ninth time at W:O:A.
MERCYFUL FATE rank among the true classics in Metal history, setting the bar pretty high in terms of riffing madness and delightfully evil vibes. And is there anyone that sounds even close to King Diamond's truly and utterly unique voice? We don't think so. The band will grace next year's festivities with one of their rare appearances.
The world of Melodic Death Metal would sound very, very different without AT THE GATES. These guys from Gothenburg, Sweden laid the groundwork for a whole genre, especially with their seminal album "Slaughter Of The Soul" from 1995 – which they will bring to Wacken in its entirety!
More high-class brutality comes from the death metal legends HYPOCRISY, also from Sweden, who appeared on our stage in 1998 for the first time. At that time they recorded the live album "Hypocrisy Destroys Wacken" with us. And in 2020 it's called: Hypocrisy Destroys Wacken Again!
"Ladies and gentlemen from the very depths of hell, please welcome": VENOM! The godfathers of Black Metal with vocalist Cronos werden will raid Wacken once again and we can guarantee you it will be hellish!
If you have been paying any attention at all in the world of extreme music and Thrash Metal, you do know SODOM. They have been a part of the first wave of Thrash from early on, blasting out a stone cold classic with "Agent Orange" in 1989. And guess what? After the recent return of guitarist Frank Blackfire, they will perform a special "Agent Orange" show in Wacken.
While we're on the subject of Thrash Metal: This kind of friendly violent fun would be decidedly less fun without the Bay Area. One of the prime bands to emerge from the second wave of Thrash from California are DEATH ANGEL. They took a hiatus for a while, but since 2001 these guys just don't stop. You'll see in 2020 on one of the Wacken stages!
Straight to the point, with all energy meters well into the red: That's what we know from SICK OF IT ALL. That's why invited them to W:O:A for next year, their second stint on the fest. Make them feel welcome and get into the pit!
You want Heavy Metal, you want to bang your head, and you want to sing along? We've got the band for you: BEAST IN BLACK from Finnland are on the bill for 2020 already. First timers, too!
Can you handle even more of the good thrashy stuff? NERVOSA from Brazil are confirmed!
And there is CEMICAN, who you might have seen in the new trailer and during the band announcement at the festival itself. This band from Mexico brings together historic instruments and Metal - and fits perfectly to the new theme of the festival.
Yes, the Wacken Open Air 2020 will have a theme that permeates the whole festival: MAYA & AZTECH CULTURES! This of course brings a very cool look to it all, but it's way more than that… food, history, shows sights and sounds. All on the Holy Ground of Wacken as part of the celebration of heavy music. You're in for a surprise.
Regarding the ticket sale: All the information about the ticket sale will follow tomorrow. It will start on the 5th of August at 00:00:00 on Metaltix.com!
See you in Wacken 2020 - rain or shine!