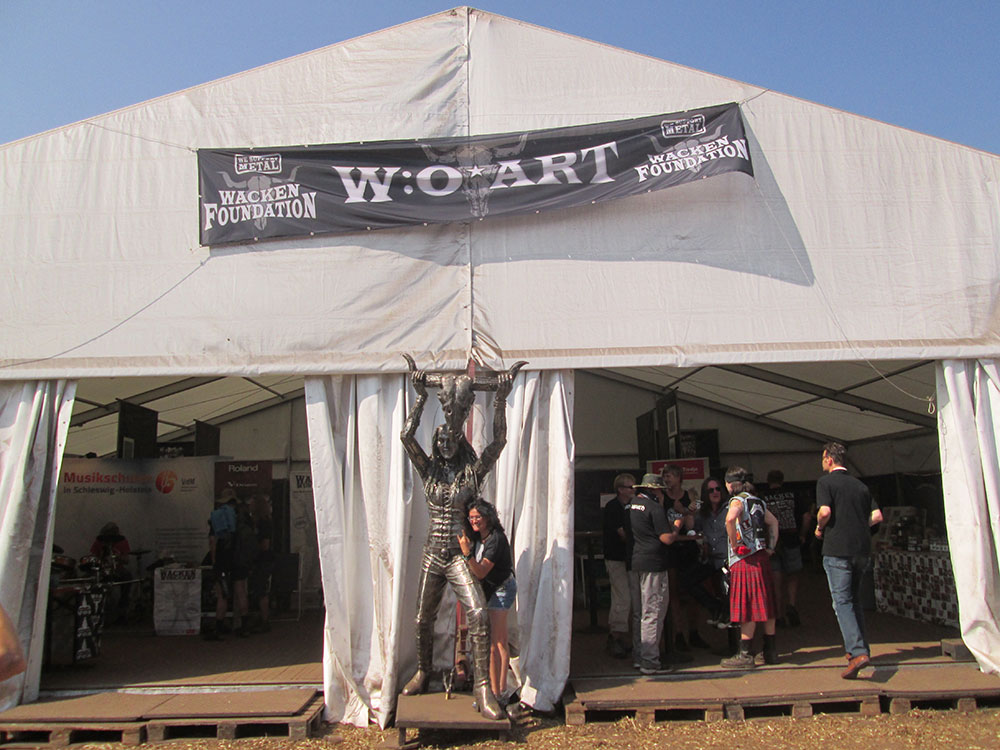 At this year's W:O:Art tent, which is located in the Wacken Foundation Camp you will find the art exhibition and many great join-in activities. The Musikschulenverband Schleswig-Holstein (music school association) will offer their drum contest "feet of hell" again. Besides that they will inform you about the Wacken Music Camp which took place for the first time last year. The Wacken Foundation is funding this project. The music camp will take place again after the festival in the Wacken Open Air production area.
The supported band Trailer Park Sex will show you how to print t-shirts in order to produce your merchandise yourself. Directly nearby you can have fun with action painting and allow yourself full bent. This campaign was initiated by "Triebwerk" of the Akademie für Gesundheits- und Sozialberufe (academy for health and social professions). The action painting pictures painted at last year's festival, can be bought this year at the booth directly. The income will be split in half between "Triebwerk" and the Wacken Foundation. Kim Schmidt the famous comic artist is also participating in the action painting. He will of course also exhibit his popular comics about the Wacken Open Air.
Jens Rusch will once again exhibit his art and Michaela Lang, a master painter from Saarland, will show her complementary work about the Wacken Open Air for the first time. The heavy metal photographer Sven Ellenbrock displays his Wacken Open Air-related pictures from the project called "The Pit" for the first time. And at the booth of Sport Tiedje you can show your rowing skills in the rowing contest!
The Slovenian artist Sebasjan Serement will present his new artwork! It was painted especially for the Wacken Open Air! After the festival it will be auctioned to benefit hard rock- and heavy metal-bands.
As an artistic highlight this year we will present a miniature stage of the Wacken Open Air. It was built by the participants of the Activcenter of the Grone-Schulen Niedersachsen GmbH from Lower Saxony. It is a school that is integrating long-term unemployed persons into the employment market. The miniature stage will be auctioned after the festival to fund the Wacken Foundation in order to support metal!
Furthermore there will be some Artworks done by Ole Ohlendorff. This time the dead and the living Rock and Metal legends will be painted in a new livery as Fine Art Prints on aluminum plates – that's real metal! And finally, at Wacken Kaffee bar you will be able to get your little caffeine-boost.
Be there! Like last year the W:O:Art tent and the Wacken Foundation Camp will be at the position #27, directly next to the beer garden!